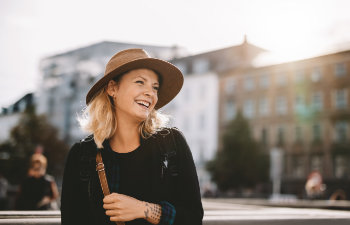 Dental implants are the ideal option for replacing lost teeth, but it is not always a quick or comfortable process. Many dentists require multiple appointments with various providers to complete dental implant restorations. While many dentists offer dental implant procedures, there are significant differences in the patient's experience and the final outcome. At ORA4X, we are your premier source for dental implant complete arch restorations that can be completed in less than four hours.
OraXpress Process
There are many dentists that offer All-on-4 dental implants, but the process can be daunting. All-on-4 dental implants use four implants to secure a full-arch prosthetic to replace upper or lower teeth. This is an ideal technique, but not all dentists have the technology, experience, and equipment to provide the best outcome.
At ORA4X, Dr. Devan Dalla created his proprietary OraXpress process for completing All-on-4 dental implants in less than four hours. He has spent years perfecting his technique for creating beautiful new smiles for his patients and has invested in the latest imaging, milling, training, and other technology. This streamlined process allows Dr. Dalla and his team to offer a new smile to his patients in one visit lasting less than four hours.
Why You Should Choose ORA4X
If you have been considering a full arch replacement with dental implants, you will not find a more accomplished or experienced dental implant dentist than Dr. Dalla. He has helped thousands of patients achieve new smiles with dental implants, improving their quality of life. He offers advantages that most dental centers cannot match, including the following unique benefits:
Free initial dental implant consultation for new patient
Free preview of what your new smile will look like
Every procedure is performed at our office – exams, 3D imaging, surgery, milling, and placement
Quality titanium and zirconia restorations are milled on-site with our state-of-the-art milling unit in our onsite dental laboratory and performed by Certified Dental Technicians
Premium dental implants are included with every restoration
Patients undergo IV sedation during their oral surgery for a painless, stress-free experience
Patients receive platelet-rich fibrin (PRF), which is a regenerative medicine treatment to enhance healing
Patients are quoted one cost for their entire procedure – everything is included in the price with no unexpected costs
ORA4X offers a Lifetime Guarantee, which is unique in our industry
You will leave with your new smile in less than four hours, and most patients can eat soft foods the same day
At ORA4X, we value our patients and want them to have the best possible experience and outcome from their dental implant procedure. If you are ready to explore dental implants to restore your smile, come visit us at our premier dental implant center in Elk Grove, CA. Call our office today to schedule your free consultation, or contact us online through our website.
Posted on behalf of Ora 4 X Dental Implants
2733 Elk Grove Blvd. Suite 170
Elk Grove, CA 95758
Phone: 916-458-4332
email@oradentistry.com
Monday: 7:30am – 6:00pm
Tuesday: 7:30am – 6:00pm
Wednesday: 7:30am – 6:00pm
Thursday: 7:30am – 6:00pm
Friday: 7:30am – 6:00pm
Saturday & Sunday: Closed