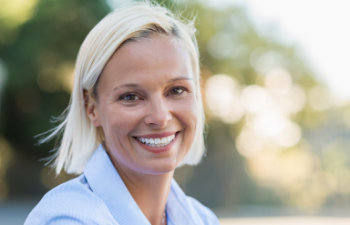 Many people have suffered dental issues for most of their life, eventually losing most or all their teeth. When it comes time to consider a full-mouth reconstruction, it is important that these patients understand the transformative power of full-mouth dental implants. Not only can they improve overall oral health, but they can also have a significant impact on self-confidence and quality of life. If you are considering full-mouth dental implants, here are six ways they can change your life for the better.
1. Improved Chewing and Digestion
Missing teeth or ill-fitting dentures can make it difficult to chew and properly digest food. Full-mouth dental implants can restore your ability to eat a wide range of foods with ease, which can positively impact your overall health and well-being.
2. Enhanced Appearance
Dental implants are designed to look and feel like natural teeth, so they can improve the appearance of your smile and enhance your overall facial aesthetics. This can boost your self-confidence and make you feel more comfortable in social situations.
3. Increased Comfort and Stability
Traditional dentures can be uncomfortable, unstable, and may even slip or shift when you eat or speak. Full-mouth dental implants provide a secure and stable foundation for your replacement teeth, so you can speak and eat with confidence.
4. Long-Lasting Results
Unlike traditional dentures, which may need to be replaced every few years, dental implants are designed to last a lifetime with proper care and maintenance. This means that you can enjoy the benefits of your new smile for years to come.
5. Improved Oral Health
Full-mouth dental implants can also improve oral health by preventing bone loss and preserving the integrity of your remaining teeth. They also make it easier to maintain good oral hygiene habits, which can help prevent gum disease, bad breath and other oral health issues.
6. Greater Quality of Life
Perhaps the most significant benefit of full-mouth dental implants is their positive impact on your overall quality of life. With a healthy, beautiful smile, you may feel more confident, self-assured, and better equipped to navigate the challenges of daily life.
If you're considering full-mouth dental implants, working with a qualified dental professional who can guide you through the process and ensure that you get the best possible results is important. At ORA4X, we are the premier dental implant center in northern California, and we can complete your new smile in a four-hour visit to our dental center in Elk Grove, CA. With the right care and maintenance, dental implants can truly change your life for the better, providing a lifetime of improved oral health, enhanced appearance, and greater confidence and self-esteem. To learn more about full-mouth dental implants and how they can change your life, call to schedule your dental implant consultation with Dr. Devan Dalla.
Posted on behalf of Ora 4 X Dental Implants
2733 Elk Grove Blvd. Suite 170
Elk Grove, CA 95758
Phone: 916-458-4332
email@oradentistry.com
Monday: 7:30am – 6:00pm
Tuesday: 7:30am – 6:00pm
Wednesday: 7:30am – 6:00pm
Thursday: 7:30am – 6:00pm
Friday: 7:30am – 6:00pm
Saturday & Sunday: Closed